We know it can sometimes be tough to buy and cook good, healthy food. That's why we're sharing great food that would otherwise be heading for landfill with our neighbours. Our food is free, but we ask people to consider making a donation to our Group to help us keep going.
As of July 2021, we are open on Wednesdays 2-6pm and Fridays 10-12noon. For the latest info about our community shop, follow our Facebook Page.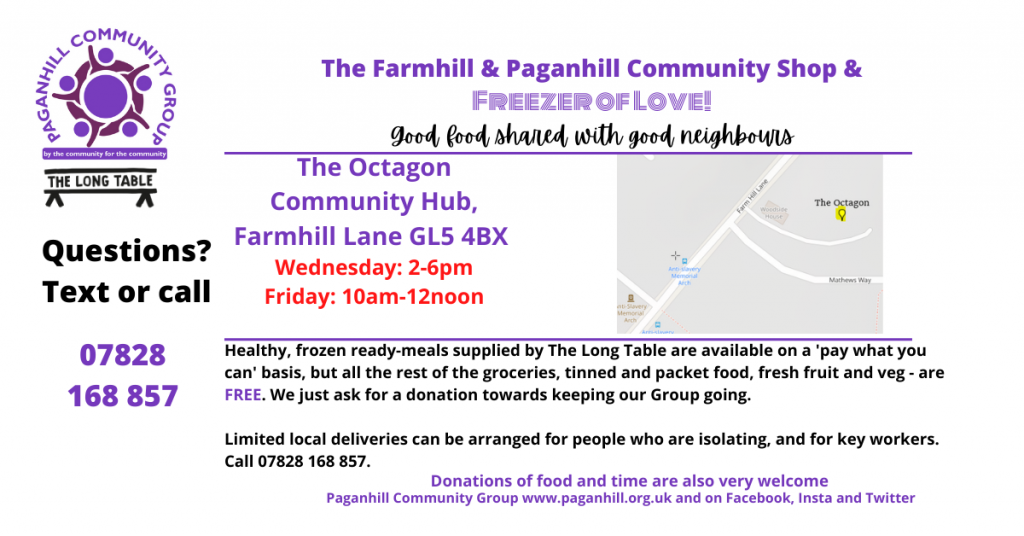 Our Farmhill and Paganhill community 'Freezer of Love' is full of healthy meals made by chefs from The Long Table in Brimscombe using fresh ingredients from local farmers & suppliers and surplus (but perfect!) food from supermarkets. We've also got a community fridge full of goodies and we're welcoming regular donations of groceries and fresh fruit and veg from local supermarkets and through the FareShare South West.
And it's on your doorstep.
We're here to help at The Octagon Community Hub, Farmhill Lane, GL5 4BX..
It costs £3.80 for The Long Table to make each delicious frozen ready-meal in our Freezer of Love. Some people choose to pay more to support this community food project and some choose to pay less. Give us a call at the Paganhill Community Group 07828 168 857 if you, or your neighbours, would enjoy a meal, or if you would like to donate food, or your time to help out.